A custom website is a site that is specifically designed and developed to meet the unique requirements and preferences of a particular person or company. Unlike template-based websites or pre-designed websites on off-the-shelf platforms, custom websites are built from scratch, and customized to meet the specific needs of the client.
Here are some basic features of a custom website:
Unique design: A custom website has a unique design that is created to match the brand identity and vision of the website owner. The layout, color scheme, typography and overall visual elements are carefully crafted to provide a distinctive and memorable user experience.
Custom functionality: custom websites are designed to include specific features and functionality that are relevant to the website owner's goals and objectives. This may include unique interactive elements, specialized forms, sophisticated databases, or integration with third-party applications.
Custom User Experience: In a custom website, user experience is at the forefront of the design process. The site is built with the target audience in mind, ensuring that navigation and content presentation are intuitive and user-friendly.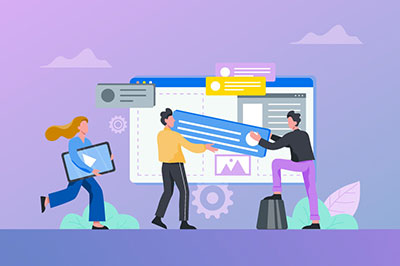 Developability and Flexibility: custom websites are often created with developability in mind, allowing for future growth and expansion. They can be easily modified and updated to adapt to changing business needs or technological advances.
Optimizing Performance: Custom websites are developed for better and higher performance. The code is optimized for speed and performance to ensure fast loading and a seamless browsing experience for users.
Search Engine Optimization (SEO): Customized websites can be designed with Search Engine Optimization (SEO) best practices in mind, making it easier for search engines like Google to crawl and index the site, thereby improving its visibility in search engine results.
Greater control: website owners have complete control over the design, functionality and content of the customized website, relative to pre-agreed features. This level of control allows for quick updates and changes, ensuring that the site stays current and relevant to the evolving needs of the business.
Although custom websites offer many benefits, they typically require a higher investment in terms of time, effort and cost compared to using pre-built templates. However, the benefits of having a unique and customized online presence that fully aligns with brand and business goals often outweigh the initial investment for many individuals and organizations.